Ferris Wheel is a spider web quilt. It is sewn from 2.5" strips. The triangles are cut using Creative Grid Spider Web ruler. Finished quilt size is 65.5" sq. The pattern includes extra yardage and instructions for a pillow
Hexi Flip is constructed from half hexagons stitched in straight horizontal rows. The pattern includes fabric requirements for 4 sizes, plus a bonus pillow.
Mountain Flower is cut with Creative Grids Corner to Corner Curve Strip ruler. If you are afraid of curves, this ruler is awesome. There are several other layout design options on the ruler.
Sabrina's Apron is made from double faced quilted fabric. The apron straps criss cross and tie in the back, and not around the neck. Size adjustments are included.



Wildflower is cut using Creative Grids Kite ruler and a 60 degree triangle ruler. The basic quilt unit is a hexagon with a 60 degree triangle sewn onto 3 sides, which then forms a triangle. The sides can be straightened by adding more 60 degree triangles.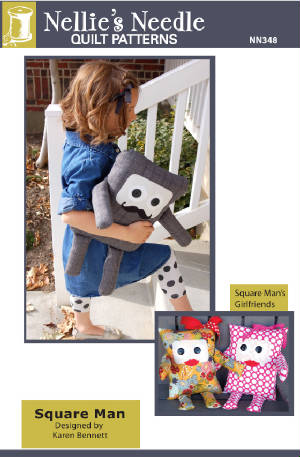 The original Square Man is sewn from suiting material, but is also adorable sew in cotton, corduroy, fleece, flannel or Minkee. He is about 14" tall and 11" wide with button eyes. Simple sewing pattern.
The Neighborhood is a basic log cabin block with a house in the center. Could be made smaller for a table topper or runner, or larger for a lap or bed quilt. Great scrap quilt!



Colors is sewn using 2.5" strips. The basic block shape is a lower case letter "T". It is very simple construction. Finished quilt size 54" X 72", but is easy to adjust size.
Claire's Baskets and Flowers is constructed from a 12" stamp basket block and applique border. The flowers and leaves in the border were cut using Olfa's rotary circle cutter. Fabulous little tool! Finished quilt size 54.5" X 67.5".
Vintage Stars is cut from 2.5" strips, using a 60 degree triangle ruler. The pattern includes 4 sizes and the template for the quilt scallop edge. Fabric requirements and instructions are included for a table topper.